I currently have hundreds of 0.5" babies from a pair of jags whose father is the world's only xanthic managuense (pic below). As such the parent fish are carriers for the xanthic gene (if indeed it is a single gene).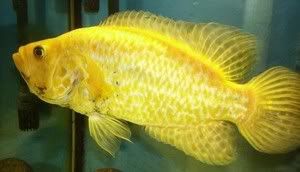 Xanthic jag (only one in the known universe!)
I've asked on other forums, but I was wondering if I could get any more info on the inheritance and expression of xanthism here.
My collaborator and I are working on the assumption that the xanthic gene is recessive and hence 25% of my current spawn should be xanthic, with 50% being carriers and the remaining 25% being 'normal' jags.
I have a few questions:
1) Is xanthism generally a recessive Mendelian gene? Do we know from other species? I am wondering if in this case it might be codominant or something as the female parent is very yellow for a jag (top fish in pic below, which doesn't do them justice):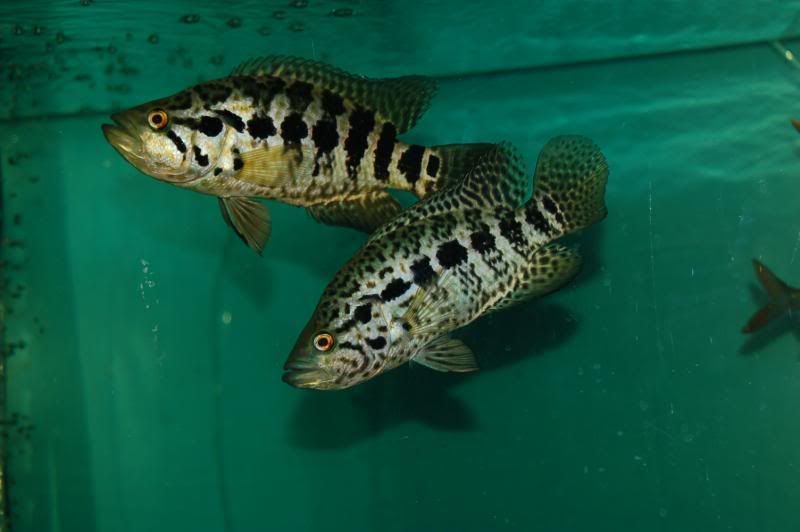 2) At what size do xanthic fish become xanthic? I have read about three or four species where the xanthic colouration only appears well into maturity - one example being the xanthic female
nicaraguense
in one thread on this forum. Anyone got experience with xanthic fish that they've grown from a very young age?
3) How quickly do xanthic fish become xanthic? I heard stories of it happening in a matter of a few days.
We are worried that the young we have won't even begin to look xanthic until around 4-5" in size. Given we have several hundred of these fish and no idea which are xanthic all we can really do is sell them and hope to keep enough so that we eventually end up with a few pairs that are xanthic, as no-one has space for several hundred 5" jags!
I hope you can see why we need some help with this. Any and all (constructive) comments welcome.