This year, the AGM and autumn convention will be held at the Festival of Fishkeeping (FoF) on the 12th of October 2008. The FoF will be held at the Mill Rythe Holiday Village Resort LLP, 16 Havant Road, Hayling Island, Hampshire PO11 0PB from the 10th to the 12th of October. The BCA will be provided with a suitable room to hold both the AGM and our auction.
What will it cost? Entry to the FoF is free this year, so it will cost you nothing to get in and see all that the FoF has to offer.
Why FoF? It has been apparent for some time that the calendar gets a bit crowded in October with various fish keeping events and that this can give BCA members a problem when deciding on which events to attend. Not only that, but the FoF had an audience of several thousand people last year and we believe that the presence of the BCA at this major event will provide us with an important opportunity to promote the features and benefits of membership of our association to a much wider audience.
BCA members will receive additional details regarding the AGM with their July edition of Cichlidae.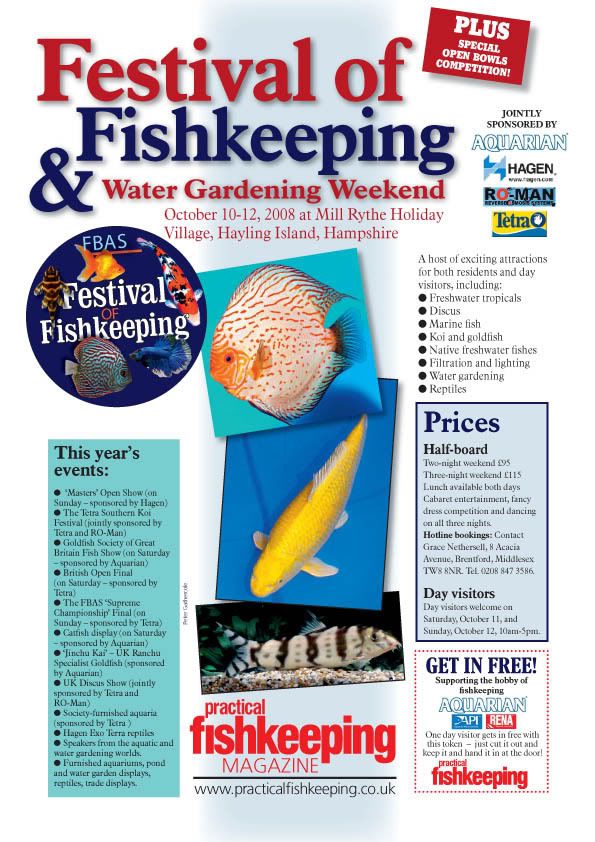 The convention program is:
10.00 Convention opens for introductions and booking in auction lots
10:30 AGM
12:00 Lunch
12.30 First lecture. Prof. George Turner (President of the BCA) will discuss research aspects of the cichlids of Lake Malawi.
14:00 First auction session
15:00 Tea Break
15:15 Second lecture. Mark Breeze (BCA Sales Officer) will discuss his experiences of keeping and breeding soft water Dwarf Cichlids.
16:15 Second auction session
Hope to see many of you there
Andrew