So here it is guys, in January I started an in wall tank build, after having a discussion with the CA, the treasory secretary and the minister of finance wich all positions are presently filled by my wife.....she readily approved the project, so I didn't wait for her to change her mind and jumped right into it. I make it sound worst than it actually is, just to make you guys laugh a little.
I always wanted to have an in wall tank, but never done it because of the amount of work it involves, but if planned toroughly, (drew a sketch in my head) i started from that. I have to mention also the other reason why i went ahead with the project, in november after coming back from the OCA, my sump pump elbow's came off of the pipe and flooded my basement, so I came home to 2-3 inches of water all over the basement, worked over 6 hours with a big shopvac to get rid of the water, installed industrial dehumidifier and hepa ventilator, and after removing the bottom part of the walls, i came to the conclusion that I would defenitaly need to fix and repaint all the walls. So came the idea to finally have a dream come true. I already own a 220 and 2 150's, so my plan was to built the in wall tank for a 220 until the set up was completed, then transfer all the fishes in it then get rid of the other set up.
So here it is, this picture shows where the tank will be,
In front of that wall there used to be another couch, and behind it there is a 12 x 16 utility room, where I have a workbench, tools and storage, but since only part of the room was used, the possibility for an in wall tank with a service area behind it was possible.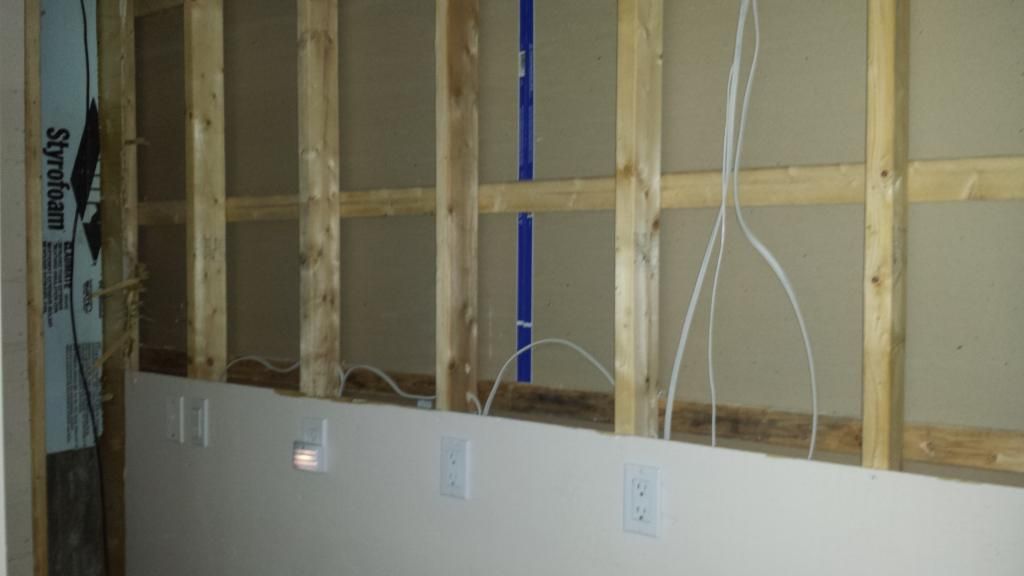 So here is behind the wall where the mirror was, as you can see I started removing the plywood that covered the wall so I can see what  imhave to deal with as far  as demolition goes. I contracted this house 14 years ago, so the memories of what inside the walls are long gone. I have to remove and relocate the wiring for my home theater, and also use the wiring that was used for those plugs for the new set up.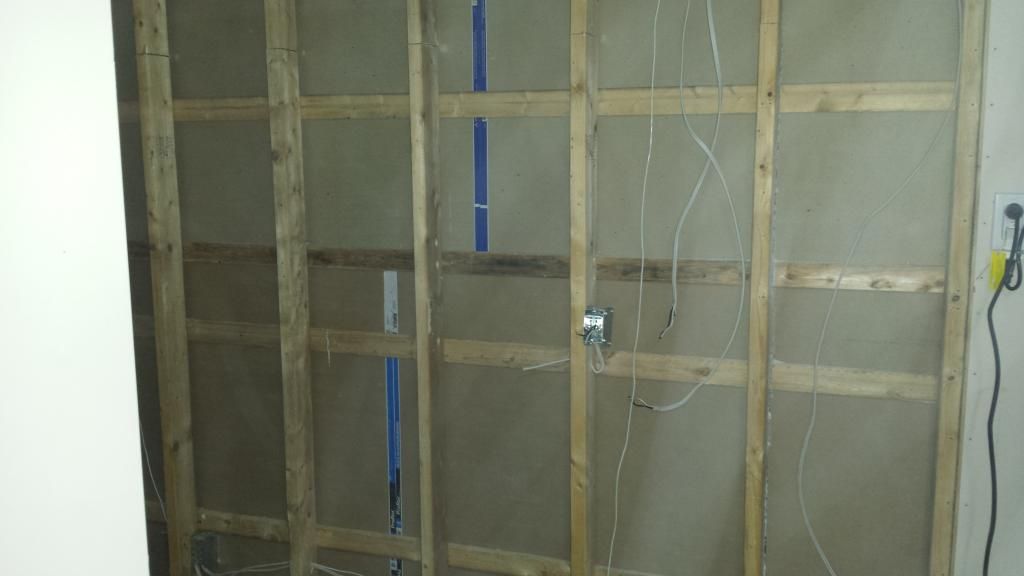 So now the bottom panel is removed and part of the wiring and plugs as well, the two hanging wires will be use for the new set up they are on separate breakers.