Here, I will show how I have built my custom built, 48" long, Compact Floureseant Light hoods.
Each hood is comprised of the following:
Description, Price Each, Qty, Total
Energy Miser CFL Detachable Reflector...$3.11.....4.....$12.44
Intermatic TN311C - Heavy-Duty Plug-In Timer...$10.64.....1.....$10.64
8 ft. 16/3 Power Tool Cord...$9.56.....1.....$9.56
Portfolio 6-Light Vanity Fixture...$20.97.....1.....$20.97
Top Choice 1 x 8 x 4 Whitewood Board...$3.98.....3.....$11.94
19 Watt - T2 CFL - 6500k Full Spectrum Daylight Bulb...$4.49.....4.....$17.96
Total Cost (not including screws, or labor)...$83.51
So basically the idea is to mount the bathroom vanity light upside down inside of a custom made hood, pointing down. With the reflectors, the hope is to capture the majority of the light that would otherwise escape horizontally, and deflect it down vertically into the tank.
This is a picture of the bathroom vanity fixture. It has six "ports" that I will plug in the CFLs into. To "soft" wire the fixture to an electrical outlet, all I did was purchase a "power tool replacement cord" rated for 600 watts and wire it in like you would any other light fixture.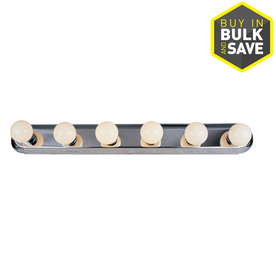 This reflector was actually difficult to find, and the bulb shown below DOES NOT FIT; however, I did find a TCP brand bulb that does fit; a 19w medium base.
I actually went with a different bulb than this, but it has the same specs; 19 watts, 6500k temperature. There will be four each in some tanks, six each in others depending on light needs of the plants.
This is the basic concept of via google sketchup of how the hood will look.
Here, the boards are cut out. The top mounting piece is 40" x 7.25", the side pieces are 7.25" wide x 6.25" tall, and the front and back are 40" long x 6.25" tall. This is 3/4" Choice Pine wood.
Here is the unit installed. You'll notice that in order to set it on top of the tank, I attached "legs" that jet out 4" on each side, two on the front, two on the back. My stand design makes this a SUPER tight squeeze, and I actually have to tilt the hood back diagonally to get it under the stand braces. Kind of a pain, but I'll live with it.
Here is how I DIY'd the wiring box. Notice the piece of PVC that has a hole in the top where the cord goes into. Inside here is a plastic lined cavity to house the wire-nut connections.
And finally, the end result. It is NOT as bright as I thought it would be, at least in appearances. I have a friend that has a PAR meter that is going to measure it and see what we come up with.
This light setup has four 19W 6500k TCP brand bulbs with the reflectors mentioned above, and two 23W 6500k Energy Miser brand bulbs with no reflector, to help wash out the dead spots.