So by demand I've started a blog...I say by demand because quite a few people have told me I should blog about my fishy goings on… Not sure how well I'm going to do but I'm going to try and simply post about anything fish related that's going on with me. Spawns, changes in tanks or changes in the fish room, newly acquired species and so on.
If you care, here's a little history. If you don't care then skip all this and look at the pictures
I just turned 36 January 9th, I've been keeping cichlids non-stop since I turned 11 at which time I had a 15 gallon tank with a pink and grey convict. So I guess you can say I've been breeding cichlids for 25 years if you count the rabbits of the water... Incidentally I will always have convicts. I like em; they will always have a place in my fish room, along with Oscars.
I live in a quiet town in a small house with my lovely and talented wife along with our four kids, a couple of rats, a couple of turtles, a dog that loves fish food and 50 aquariums...
Here's what's happened lately so as to catch you up.
I've converted the 1200 gallon to a SA cichlid community here's the stock list:
Five Oscars (two of which are a breeding pair)
Seven Port Cichlids (at least two pairs if not three)
Breeding pair of Rotkiel Severums
One Caquetaia spectabilis
One unknown severum with a bad eye
One Green Terror (five more growing out a bit)
Two silver dollars
One tinfoil barb (don't ask)
Two plecos
Nine psittacum, four of which should have been culled.
And Elvis, the soft shell turtle.
But who cares, here's the pics:
http://s47.photobucket.com/albums/f197/ ... 2d5b78.pbw
http://s47.photobucket.com/albums/f197/ ... bb349c.pbw
On the 16th the blue gene jack dempseys spawned for the first time since march. And on the 17th the hatiens spawned again.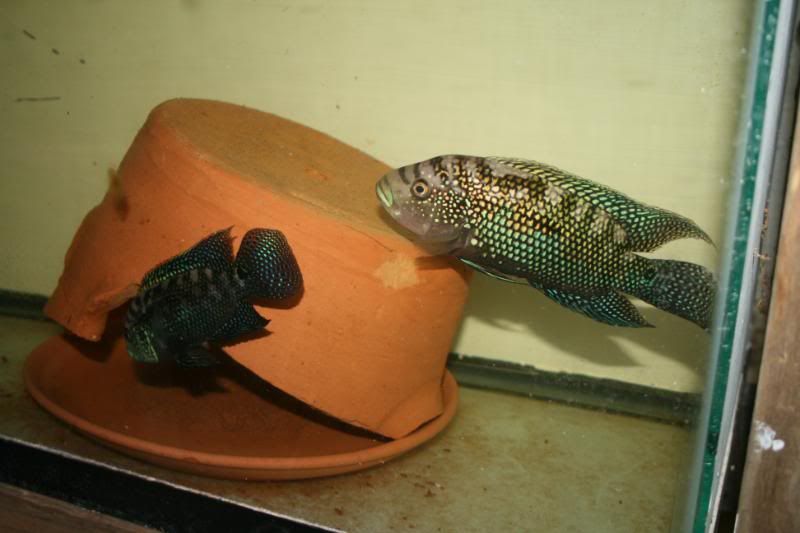 I attempted to get out as many fry from the previous spawn as I could but a few did not fall for the fish trap. As of Tuesday morning the parents did not care that they were still in the tank.
I also set up my 185 with a few CA species:
Lone male hatiens
Lone Argentea
Lone small barred midas
Lone small carpintis
Breeding cutteri
Breeding convicts
Breeding nicaraguensis
And a handful of slowly diminishing ameca splendens
Pics:
http://s47.photobucket.com/albums/f197/ ... 3fb071.pbw
I promise my updates will NEVER be this big again, and I also promise to post pictures every time I update, you know, so it's worth looking at...
-peace