I've been a fan of the vieja, theraps, paratheraps, chuco complex for many years. It started 21 years ago when I saw a beautiful black belt in the pet store I worked at in high school. I was fourteen and he was in a 20H. Stark white with a black as black can be band, red head and caudal fin. You remember what they used to look like! He was awesome but I didn't have room... That's what started it all...
Currently I keep;
Fenestratus:
Argentea: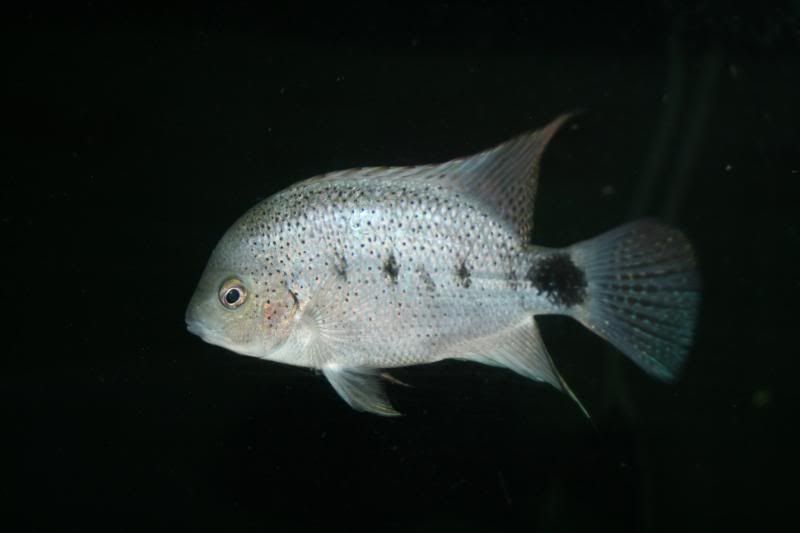 Synspilum: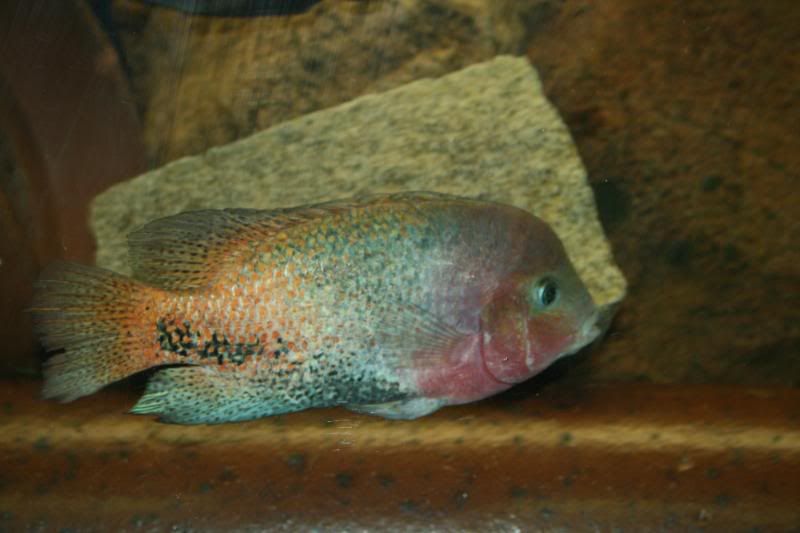 And of course Bifas: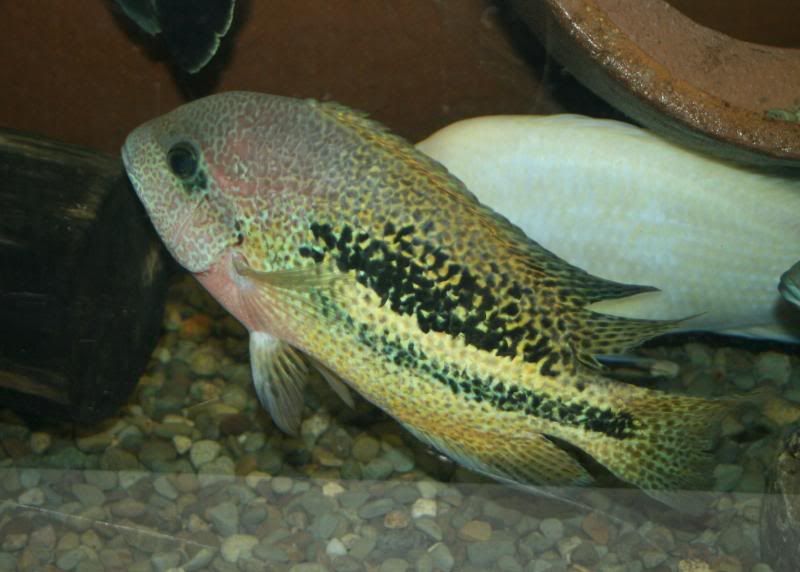 I got hooked on bifas when I was at a fellow Ohio Cichlid Associations board members house for a board meeting in December of 2008. He had a group growing out in a 125 and I was thoroughly impressed! I asked if when he attained a pair if I could have dibs on out casts... We'll get back to that in a minute...
The OCA's winter auction arrived in Feb of 2009 (This year it's Feb 13th) where I bid on and won a bag of six bifas fry! I was extremely excited! Almost simultaneously a friend of mine won a bag of six on Aquabid to stock his 240. His grew up and did great, mine on the other hand... Well, one rose up and killed the other five almost over night! Sadly the last one died about two months ago... We'll get back to this in a minute too...
In the summer of 2009 I was visiting another board members fishroom and helping him with his computer when we started talking about bifas. (Imagine that) To my great surprise he had one he said I could have! It was left over from a spawn... The one he couldn't net... And let me tell you, we had a heck of time catching it!
He was big guy, atleast 8"... He was told when he got the parents that they were of the red strain...
Here's a picture: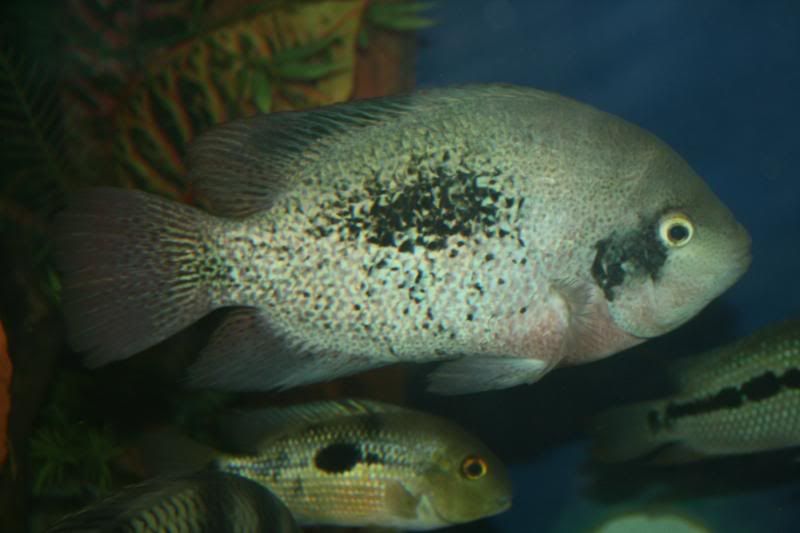 In the Fall of 2009 a fellow member of the OCA brought me a gift, his wild caught Paratheraps Bifasciatum with a split dorsal fin from the Rio Chaca Max!
Here it is:
Then the 2009 OCA Extravaganza fell upon us where a bifas from that group I saw in Dec 2008 was entered in the show. Crushing news came to the owner from Willem Heijns (one of our judges) who deemed the bifas a hybrid... The owners plan was to euthanize, seing as I run a rescue and all I couldn't let that happen. So on the way home from the event I stopped and picked them all up... Adding to the pair he had already given me, and another board member gave me his lone male too!
Here's one of them:
Quite similar to the one I got from the other board member, but in person they look slightly different. I do not think they are related in any way.
You remember my friend who stocked his 240 with bifas about the same time mine were all getting wacked by their older sybling... Well, I just got all of his fish last weekend which consisted of all six of his bifas!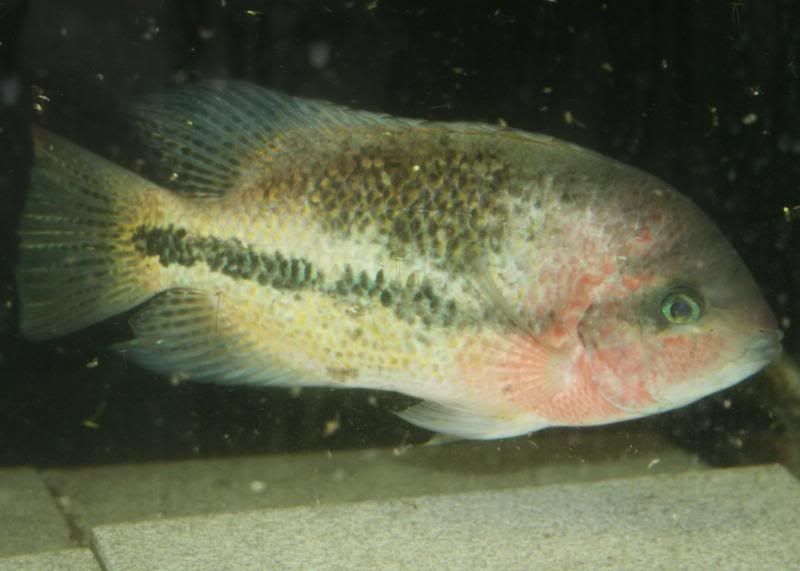 Looks somewhat similar to the Rio Chaca Max bifas eh? Definately not as vibrant in color but very similar in color markings and such...
I'd really like to breed some bifas but am afraid with that "hybrid" word getting thrown around!
I would like to breed the Chaca Max with one of the bifas that came from my friends 240 to introduce new blood. Is this a good idea? What would you do??
Consider this, two of the bifas that came from my friends 240 have paired off and laid eggs in his tank and are doing the dance here... Problem is he looks a little... well... odd... There's no way to know if he's related to the other five. With unreliable sources such as auctions you never know what you're gonna get... Especially with fish from this complex looking all the same at one inch...
This is the male that wants to spawn: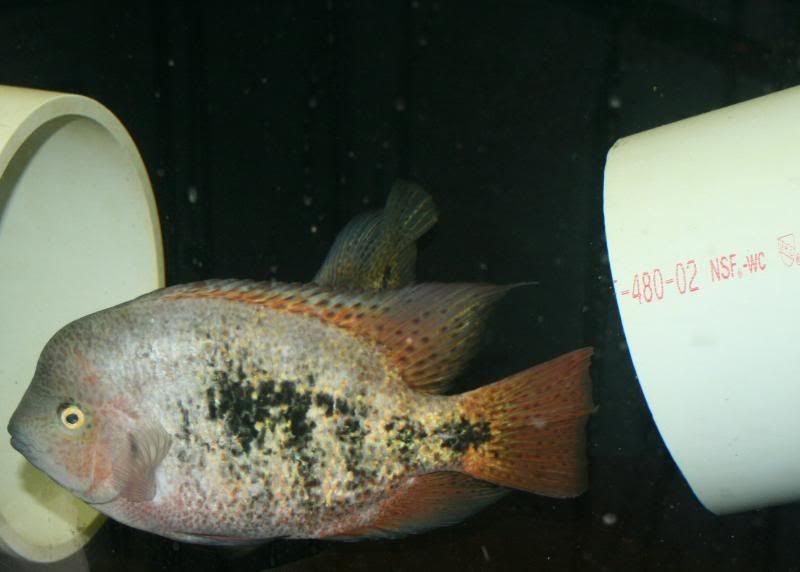 And here's his woman: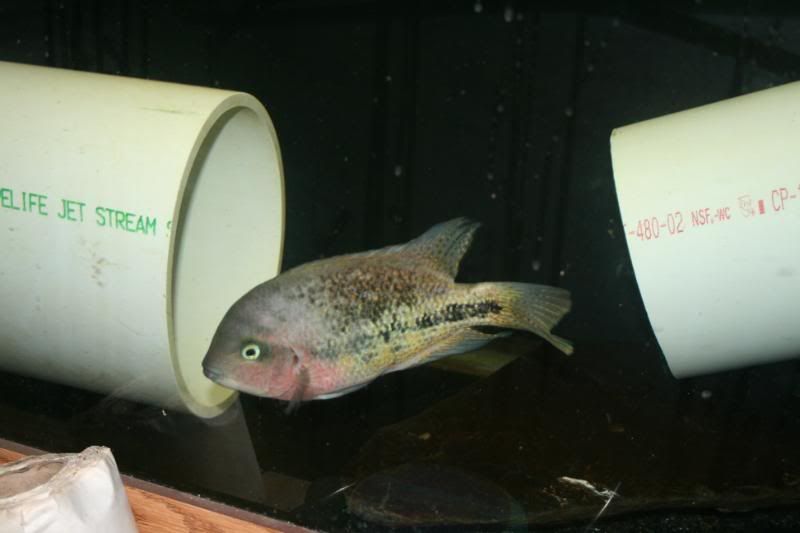 So I ask again... what would you do?