Some of you might know my 240G Frontosa tank from my site
http://www.fmueller.com
. Since it took about a year from setting up that tank to having it on the web site, here are some preview snap shots of my latest project, a 125G that I am planning to use for a colony of Tropheus 'Bemba Orange Flames'.

Full Tank shot of my brand new 125G. No fish in there yet. You can click on the picture for a larger version.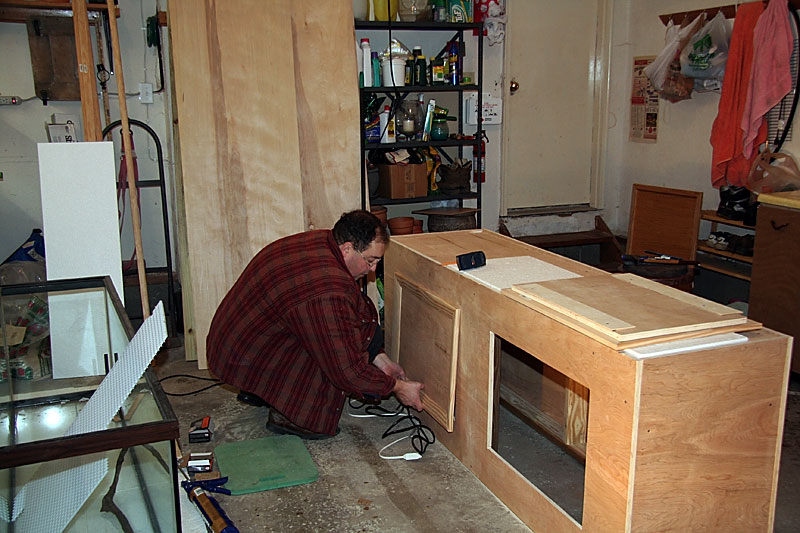 The 125G sat for several months in my garage (left). In the middle that's me fitting the Glasscages style 'lift off doors' for the first time into the cabinet I made. The plywood in the back is for the canopy.
This time I built the cabinet and canopy, and I made them very similar to the Glasscages ones I bought for the 240G. The tank will also have an automatic water change system, but no UGJ system and is filtered not by a sump system, but by an Eheim 2260 with Eheim diffuser. The tank background this time was painted - in deep jungle green. The latter was my wife's idea and I reckon it looks pretty sharp - different from the usual black or light blue. The main decoration piece is obviously the huge piece of wood, which I found locally in the forest.
I am hoping to be able to put the Tropheus in this tank, but if the piece of wood keeps coloring the water too strongly, I might still use the tank for a SA setup with Geophagus sp. Pindare, B. Rams, Apistos, Xiphophorus montezuma, and some plecos. I have all of these fish already in smaller tanks, and I am also setting up a 75G at the same time. I already have that tank as well. It's just a question who goes where. Any experiences with wood and Tropheus?
Frank