as I've posted this on other forums, thought I'd do it here as well
I picked up a second hand 6by2by2 (in very good condition apart from a broken centre brace, no scratches to be found) it came with a FX5 so most of the filtration is sorted.
first off, bringing the tank back, took 4 blokes, and unfortunately the doorways aren't quite wide enough for 2 blokes side by side...
so put it on the kitchen table
then drove back up and got the stand to put it on.
moved the tank over (not popular as there is a scratch on the table..)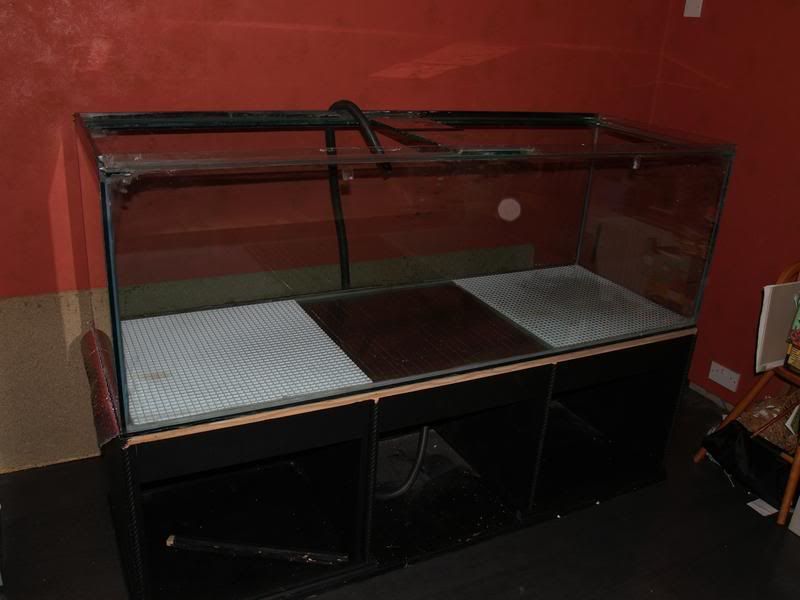 fitted 2 pieces of eggcrate for where I planed the rock piles.
Once I got the backing plastic I applied it using a little oil (had olive oil going spare, so used a little of that) and then used an ink roller (thats what I was told it was called) to smooth out any bubbles
then I had the fun of moving and washing 213kg of rock (I was so geeky I decided to weigh it)
then set up 1 of those painting ladder/platform things, and transferred the rock to that. then got in the tank, and lifted the rock into the tank before carefully arranging it (the heaviest piece there was 26kg, so not something I wanted to drop.
once that was done I added 40kg washed play sand (a 4-5 hour job.)
and then filled it up. this was shot straight after filling, and despite spraying the water in directly (and stirring up the sand) notice the lack of cloudiness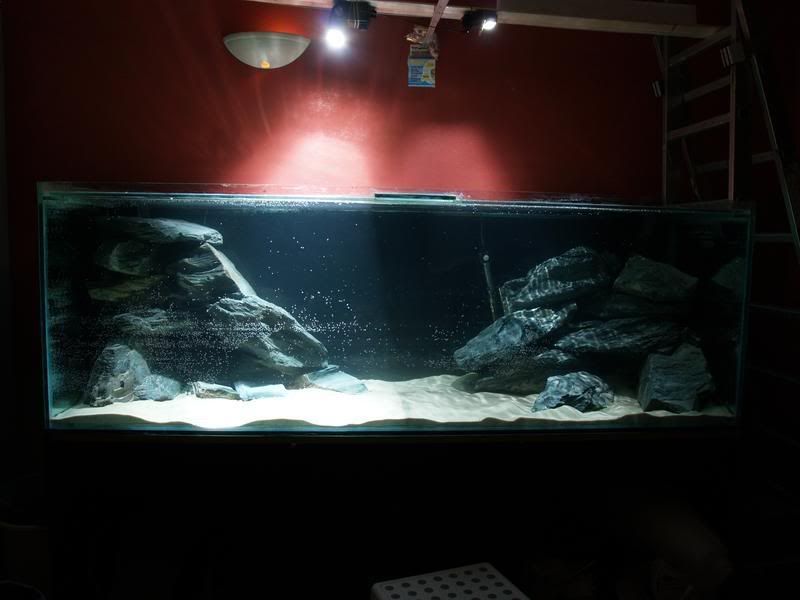 I then fitted a floating shelf above the tank (Ikea) and attached 4 LED lights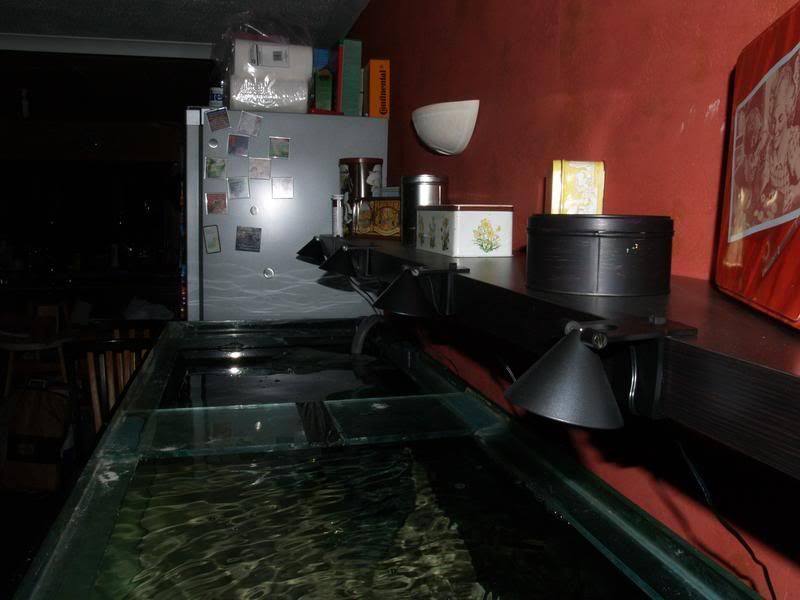 and though this photo doesn't show it well, it is very well illuminated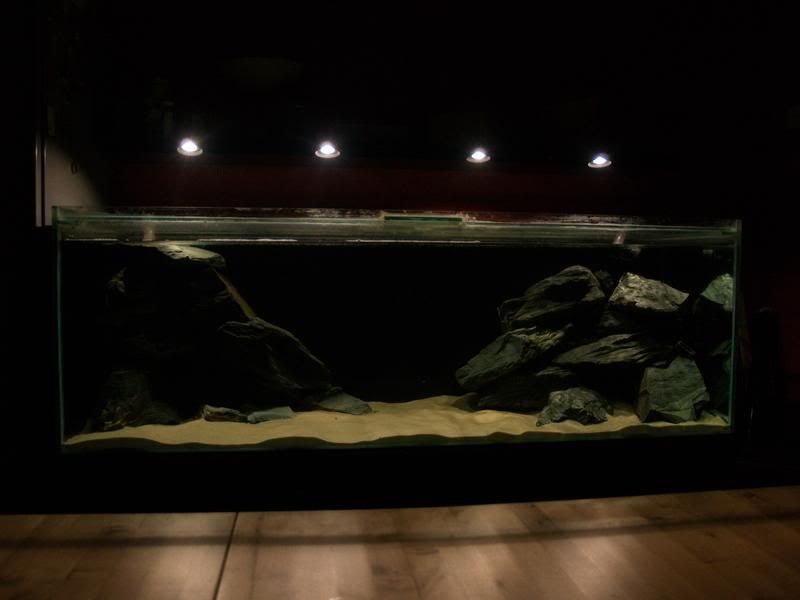 which given thats only (at most) 5.6w to light an entire 180g I think thats pretty good going.
filled the FX5 with Eheim substrat pro, and filterwool. (put a layer of filterwool behind each of the sponges in the basket, and 2-3 layers in the bottom basket with the eheim media on top, other baskets were just substrat pro
I then added my fish, both new (quarantined for 4 weeks) and from my existing tanks.
stock list is was as follows.
10 I. Sprengerae (rusties)
11 L. Caeruleus (yellow labs)
4 Ps. Ellongatus Chewere
3 Ps. Acei 1m2f
3 M. Estherae 1m2f
5 O. Lithobates Mumbo Island 3m2f (bought as trios, 1 female died shortly after getting home. and the other "female" turned out not to be...)
8 P. Taeniolatus "fire blue" (should be Makanjila)
4 Synodontis Petricola
haven't been able to get hold of any utaka or peacocks of yet
so far there has only been 1 death. and that was 1 of the spare O. lithobates males, the other 2 seem to ignore each other, though 1 isn't showing full colours, however, in the last week I have had a female red zebra and a small yellow lab develop bloat, so not happy, but other than that no problems with this tank.
I have no full tank setups, as I haven't been able to get a matched pair of flashguns or studio lights to light the tank up good and proper for a full shot, and trying to do it in bits didn't work
I haven't done a lot of photography of recent (due to my health) and have been infuriated with my aquarium attempts so not many inhabitants shots.
the dominant O lithobates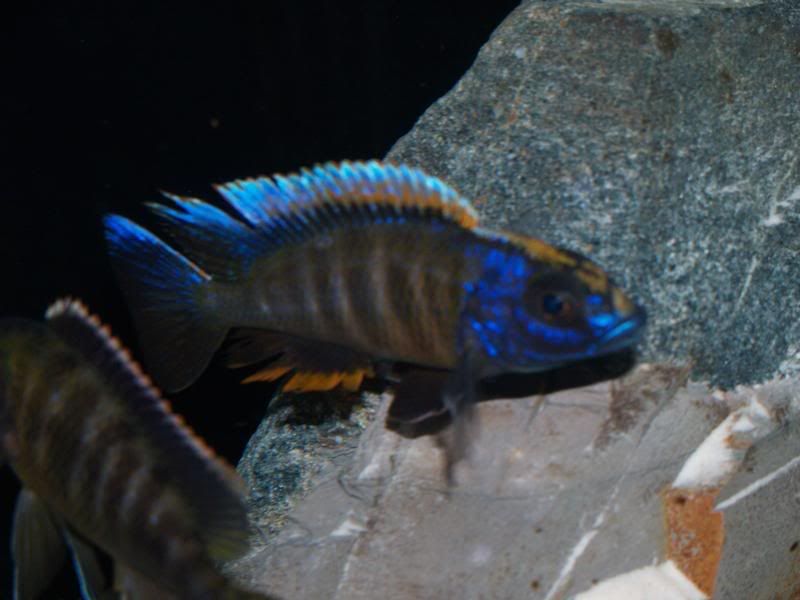 the dominant P. Taeniolatus "fire blue"
one of my original yellow labs (the newer ones I got (though still small) aren't quite as colourful)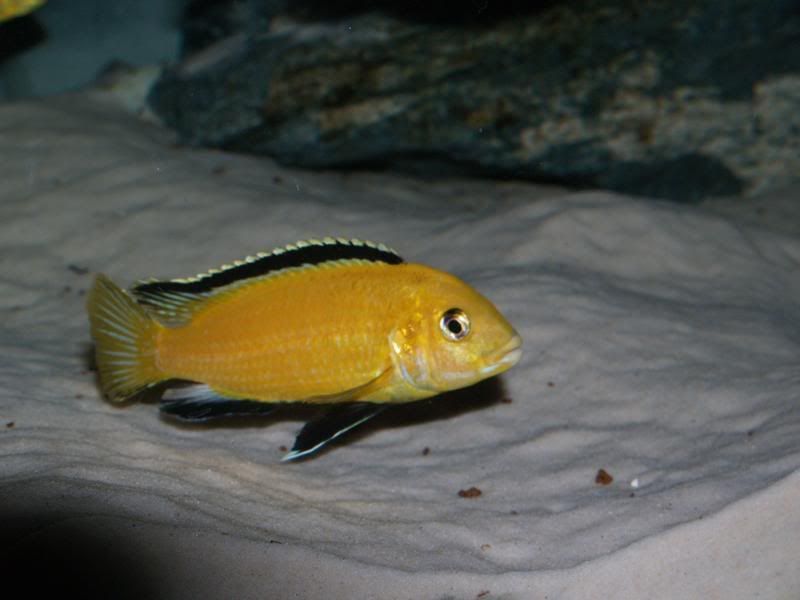 and a pair of my rusties female front, male back
If I get the opportunity I may add a pair of lerinthrops and some copadiochromis. amd maybe a trio of aulonocara, but depends what I find is available