I have been keeping two couples of Lamprologus Brevis Ikola Sun Spot F0 for a year and a half. Firstly I got three couples and I got rid of one of them and I gave it to an another enthusiast partner.
During this time that I have been keeping them and I have tried their reproduction in several tanks and with different organisations unsuccessfully. Throughout this process I have organised several tanks for this aim and they stayed in them during periods of a couple of months. These combinations consisted in housing the two couples of Lamprologus Brevis together in the same tank of 60 litres without any mates, and also each Lamprologus Brevis couple separately in a 60 litres tank and in both cases without any evident positive result. These bad results made me try with another tank and I put the two couples of N. Brevis together with a colony of Julidochromis Marlieri in a tank of 200 litres and 100 centimetres long. With this organisation I began observing wooing fights among the males, and to my surprise the females also took part in these fights, which by the way were rather violent.
Photography with the initial configuration to enter the couples of L. Brevis in the aquarium of 200l , in the same were housed a colony of 10 Julidochromis Marlieri.
Photos of the fights.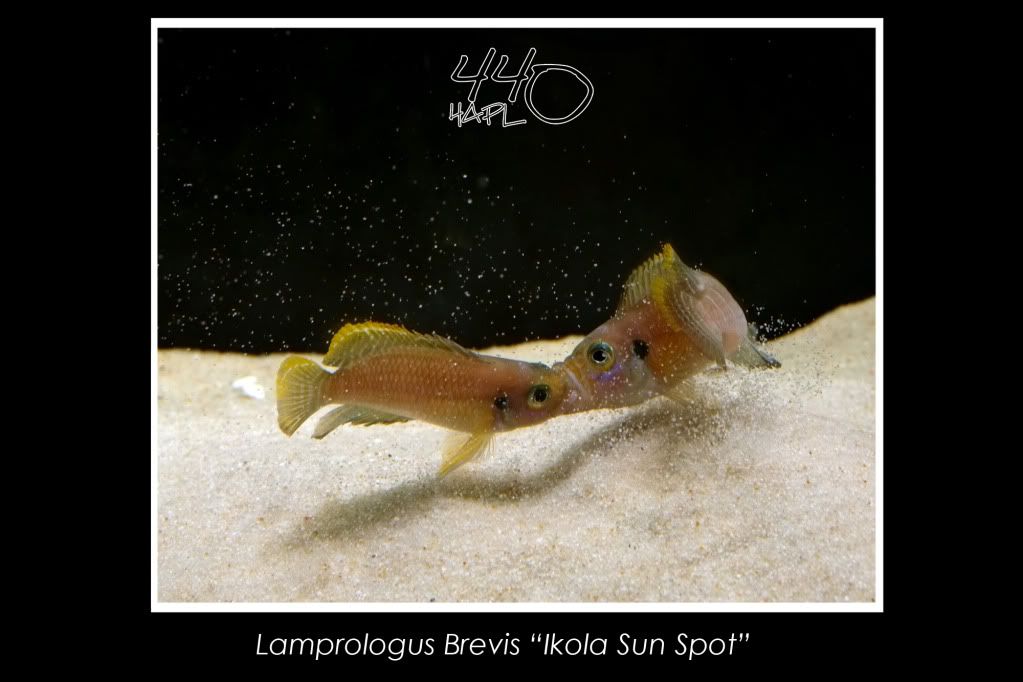 At this point I decided to reorganise the elements inside the tank. This change consisted in building a great pyramidal rock formation in the centre of the tank which housed the Julidochromis Marlieri colony so that on each side of the tank there was a sandy area where I put some shells for each couple of Lamprologus Brevis to establish there.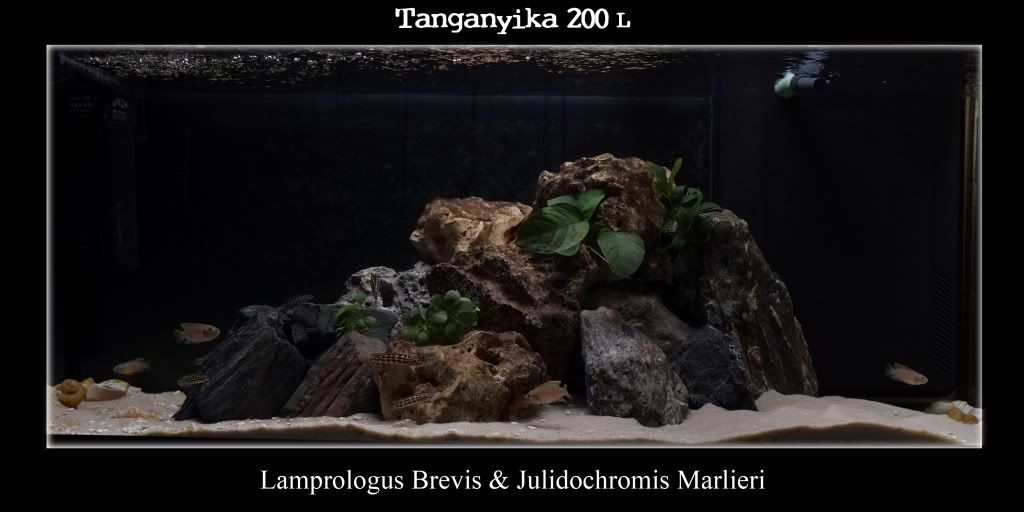 Photo of the remodeled aquarium
This redesigning took effect but only partially…because, although each male settled down on one end of the tank, the females swam from one side to the other and they continued causing fights which were minor but this wasn't the expected aim…, since the females took turns and the aim was the reproduction of the fish and this behaviour wasn't what I expected.
After a few months observing this behaviour, I decided to take one of the couples of Lamprologus Brevis out of the tank and I put them in another tank which I will call "No.2" of 240 litres and with a big rock formation where 2 couples of Altolamprologus Compressciseps and 1 couple of Neolamprologus Leleupis live.
The other couple of Lamprologus Brevis stayed in the tank which I will call "No.1" together with the Julidochrmois Marlieri. And now six months later, I've finally been able to detect a egg layers, and I took out the fry which had just been born as I feared that they might be eaten by the rest of the fish or even by their own parents.
Photos of the first fry at the moment of extracting them.
The couple that I keep in the tank No.1 has been the first to reproduce, together with the Julidochromis Marlieri and other 5 Neolamprologus Brichardi that I have recently incorporated in the tank. Also the other couple of Lamprologus Brevis Ikola Sun Spot which live in the tank No.2 of 240 litres, together with the Altolamprologus and Neolamprologus Leleupis have put a lay a few days later which I didn't put away and which apparently have been eaten.
http://www.youtube.com/watch?v=72id7dbGfZ8
Video of the first week of life, after having consumed the yolk-sac
This first lay that I have taken out of the tank No.1 had some vellum when I took them out, and after three days they have eaten it completely and the began eating infusoria. They stayed for 20 days in a small tank of 10 litres and after this period I have put them in a tank of 30 litres equipped with some shells and a small hanging filter, up to now I haven's observed any death inside this tank, and if I'm not mistaken I think that there must be about 30 fry. The nourishment throughout the first stages was basically infusoria, and after 20 days I started giving them a mixture of different crushed powder (NLS and JBL spirulina), freeze-dried food, and some artemia and lobster eggs.
After this last month and a half, it happened again the same situation, I detected again a new lay by the same parents that I have in the tank No.2 and I took them out of the tank. But this time the larvae are much less mature than in the previous lay. For this reason I put them in an external fish breeder which I use as an egg tumbler. Since it is transparent I could observe all the development process of the larvae. This new lay developed throughout one week until the yolk-sac was consumed. I have counted about 20 larvae, and I only took out two specimens that didn't manage to overcome the hatching process.
Pictures taken during the fry development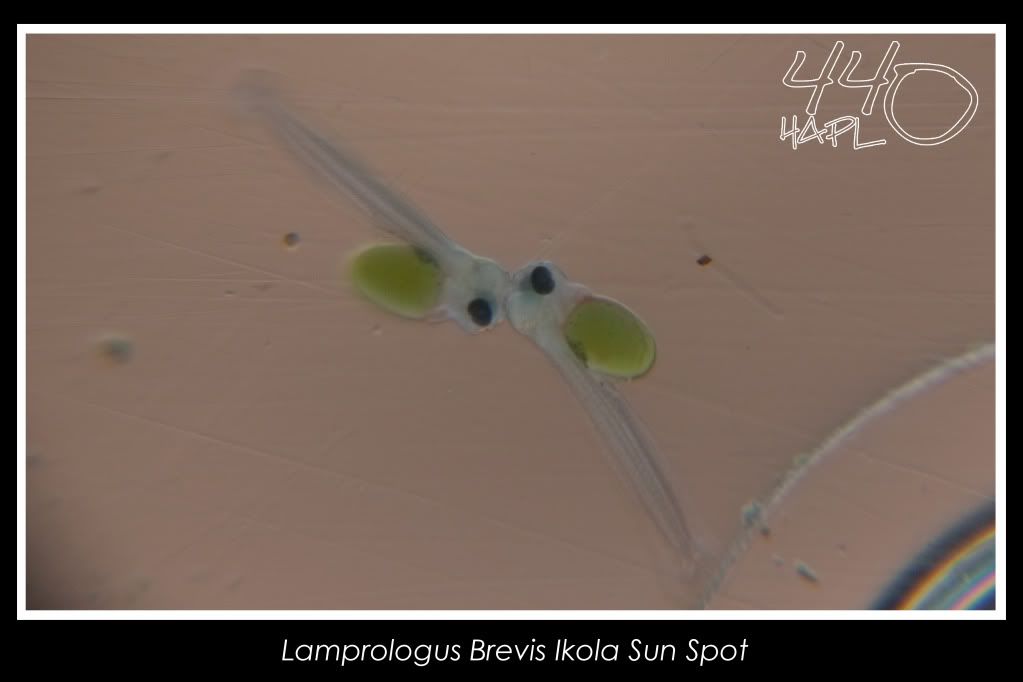 Fragments of video during the development of the fry.
http://www.youtube.com/watch?v=6sk3u8sqBw0
Right now I'm going to put them in a tank of 10 litres, the same one that I used a few months ago for the first stages of the previous fry.
Current Video of the first fry 45 days after in a tank of 30 liters
http://www.youtube.com/watch?v=Jo52Td-c9iY
See you
Sebastian