A small curiosity...
Darwin's fish collection from Laguna del Diario, Maldonado, UY, May & June 1833.
from: Darwin's 'Fish in Spirits of Wine' [Beagle animal notes] (1832-1836), CUL-DAR29.1.B1b-B20 (Darwin Online,
http://darwin-online.org.uk/
)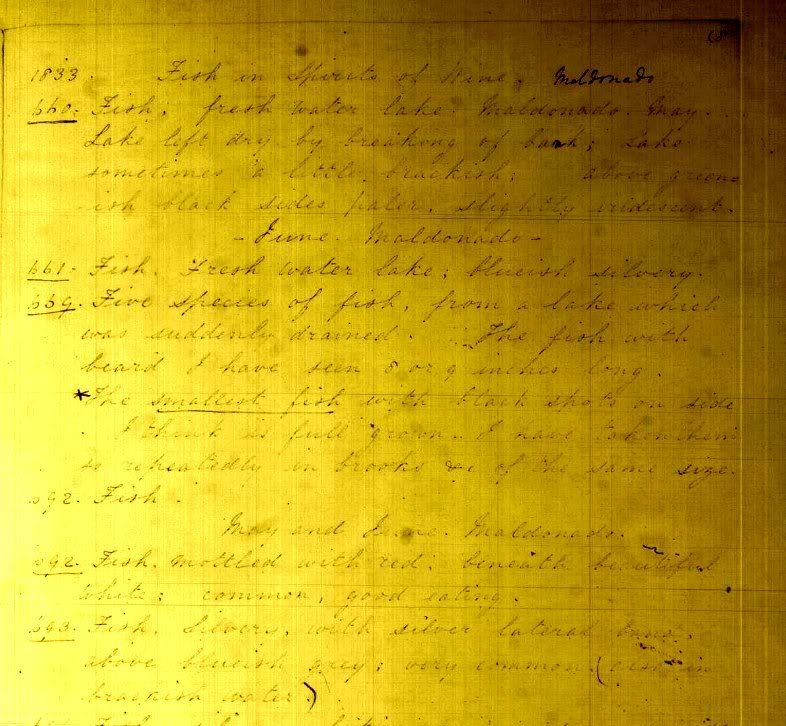 Transcript:
1833 Fish in Spirits of Wine, Maldonado
660. Fish, fresh water lake. Maldonado May.
Lake left dry by breaking of bank; Lake
sometimes a little brackish; above green-
ish black sides paler, Slightly indescent.
- June. Maldonado -
661. Fish. Fresh water lake; blueish silvery.
669. Five species of fish from a lake which
was suddenly drained. The fish with
beard I have seen 8 or 9 inches long
* The smallest fish with black spots on side
I think is full grown.. I have taken them
so repeatedly in brooks &c of the same size.
.....
Comment on species:
660: Chromis facetus, Jenyns
661: Hydrocyon Hepsetus
669: Poecilia decem-maculata. Jenyns N.S.
Lebias lineata, Jenyns N.S.
Tetragonopterus interruptus, Jenyns N.S