Setup and Background:
4ft long 55 gallon tank
Normal rift lake water parameters
Tank has been up and running with same fish for well over a year...decor was sand with "holey rock"...decor is now sand with smoother limestone rocks.
Occupants:
1 Male
Aulonocara sp
Lwanda.
2
Synodontis grandiops
1
S. multipunctatus
The Problem: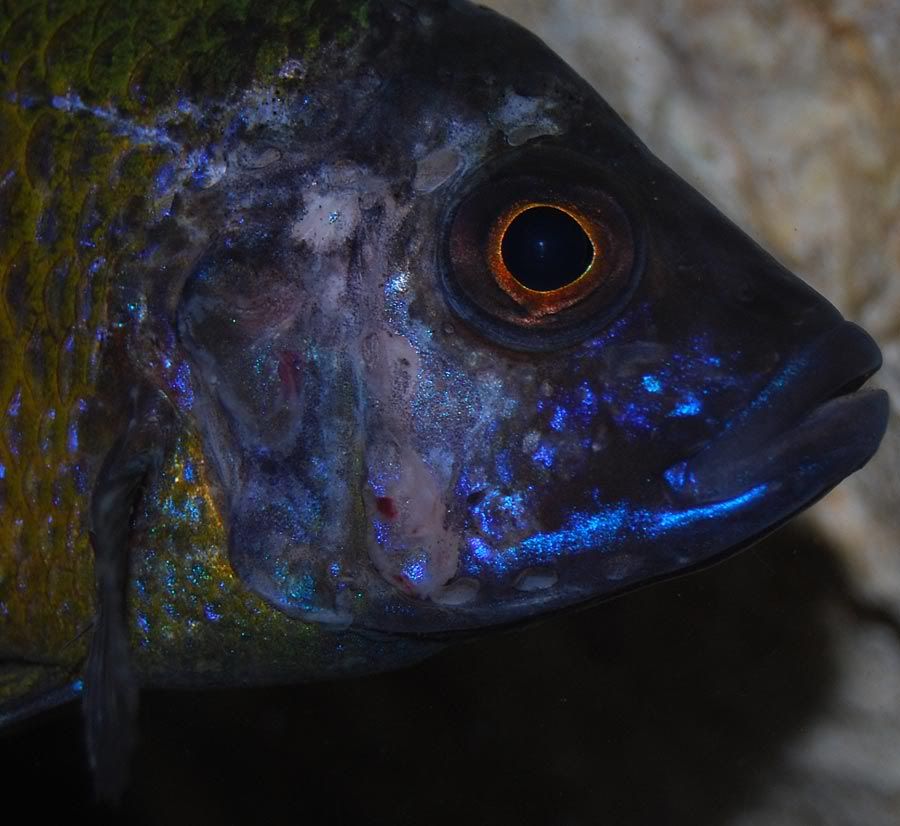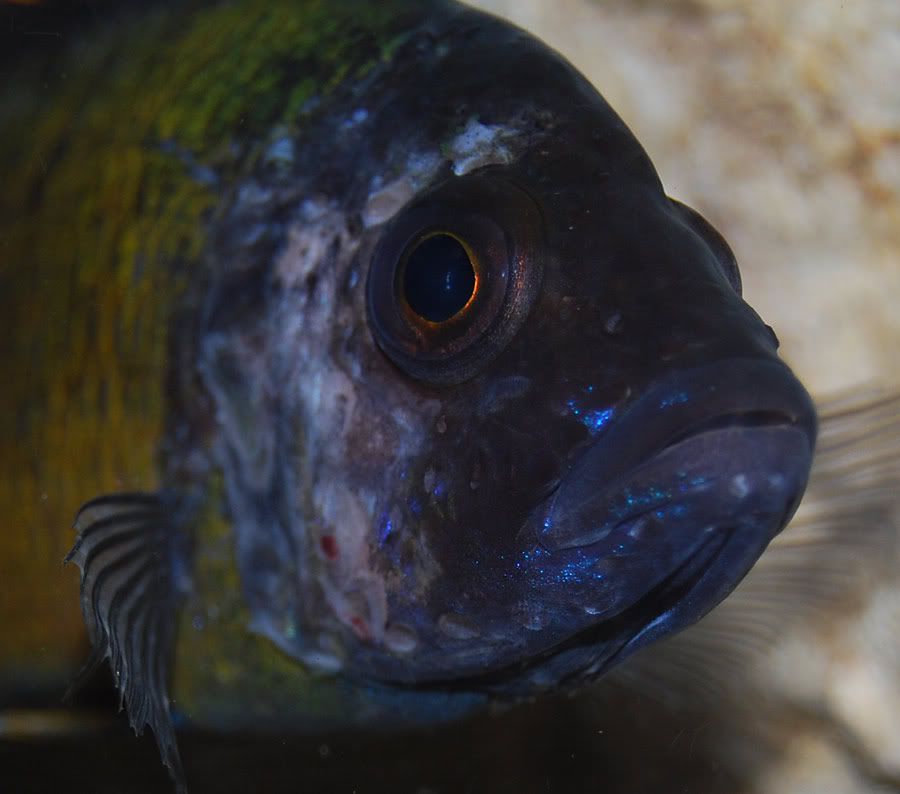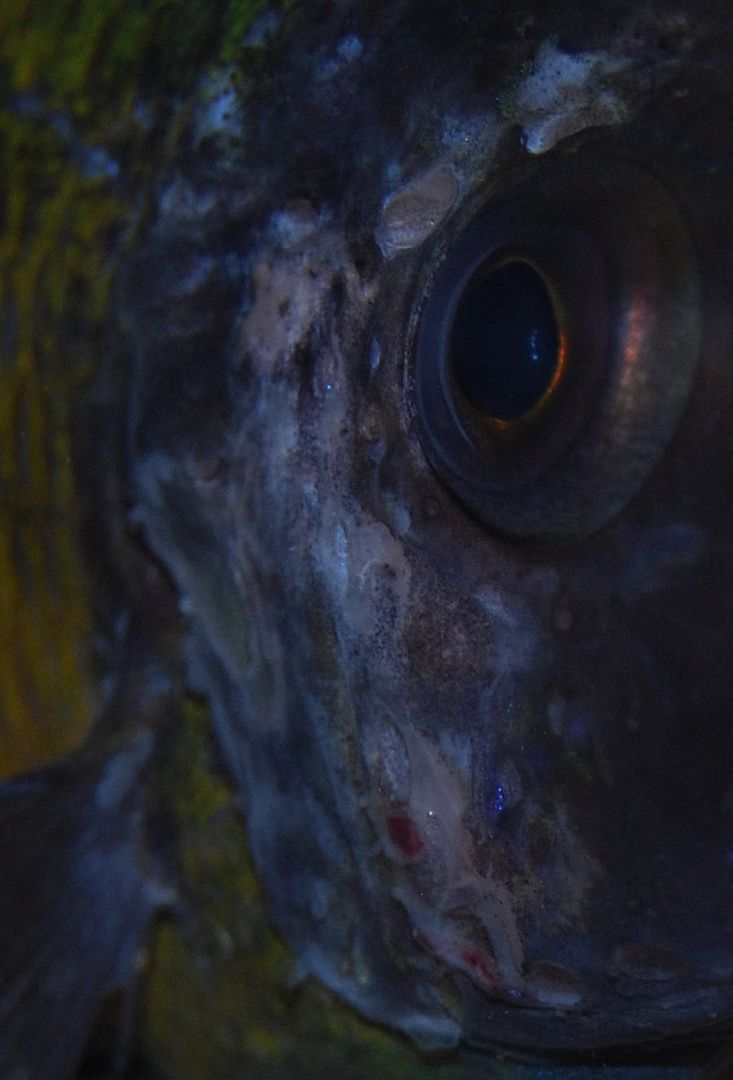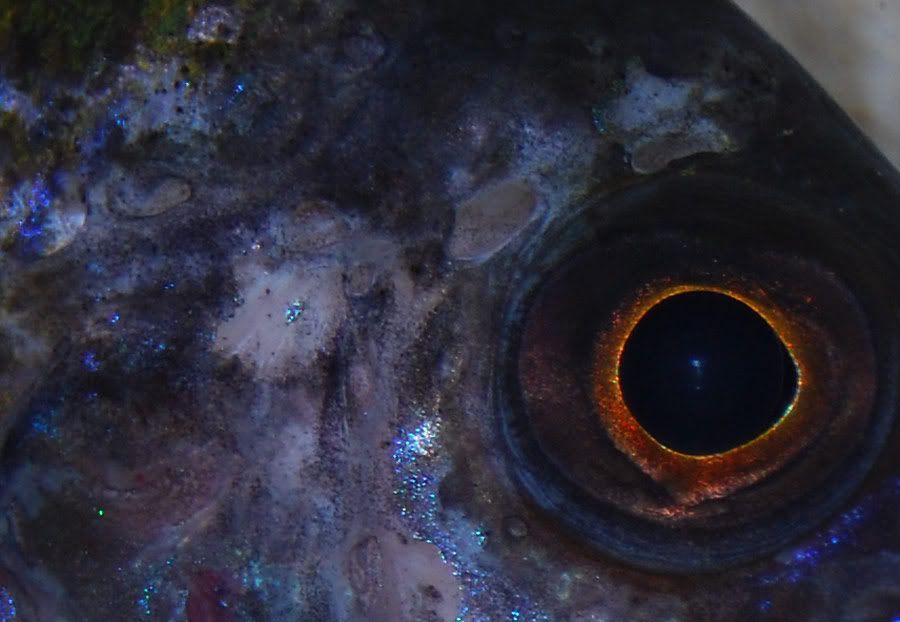 About 6 weeks ago the male peacock began getting overly aggressive with the Syno's, chasing them into the holey rocks and scratching up the right side of his face. At first the wounds were healing very quickly and were fairly minor. About 4 weeks ago the Lwanda injured the right side of its face quite badly on the holey rock so my wife removed the holey rock and we stepped up the water changes to prevent infection. We replaced the rather sharp holey rock with smoother limestone rocks from the local landscape supply company. We thought this would solve the problem.
Now it seems that just about as soon as one wound heals, he's injuring himself again flirting with and chasing the cuckoo spawning Synos...The strange thing is that despite rearranging the tank the fish only seems to hurt its right side.
Some other weird interactions have also been happening between the catfish and peacock...The catfish have been swimming up alongside the peacock while he shimmies and shakes at them, the peacock will allow them to then swim up and over his face. It almost appears that the catfish are feeding on his face...It also seems that the catfish and peacock have decided to sleep in the same cave and I'm wondering if perhaps he's getting "finned" or chewed on while he's sleeping...
Solutions?
I've thought about moving the Syno's back to another tank and putting a large S. decorus in with him instead....I'm afraid he'll just tear up the decorus and keep hurting himself on the the rocks.
I've considered getting him some females to diffuse his aggression and give him something proper to flirt with...so I may get together with my local club and place an order for some large females.
I'm not too sure what to do as I'm not exactly sure what is causing all this damage...it almost looks like it has progressed into "lateral line erosion"...
Any ideas, suggestions or thoughts?